How to choose the right device for your hospital?
Information technology has made an immense impact on health care; it can help save lives, increase the efficiency of medical processes, improve patient outcomes and reduce hospital costs. The success of implementing an IT solution, such as ePrescribing, depends on selecting the right combination of devices.
Choosing a device that is unfit for the software can add further complication to the work of medical teams, or in the worst-case scenario, the hospital may not even be able to use the solution at all.
Stationary computers vs mobile devices
In the past, healthcare IT solutions were mostly developed for stationary computers: due to their fixed location they cannot be misplaced or lost, however, they fail to provide access to patient information at the point of care.
Tablets, in contrast, can be used at any location, but their downsides include the risk of being lost, limited connectivity to other devices, and the demand for a reliable network connection.
Computers on wheels (COWs) are portable as well, and they come with additional equipment (lockers, drawers, card scanners), which can be used for a number purposes, such as prescribing, storing and dispensing medication. They are, however, more expensive, and require more space due to their size.
Key factors to consider when selecting a hardware device
The price will undoubtedly play a significant role in your decision, given that your hospital's IT budget is probably not unlimited. Trying to lower the cost by buying devices in bulk to get a discount is not a good idea: you will likely end up with useless devices and software. The process of buying new devices should instead be incremental to the implementation of the IT solution.
First things first: the device has to meet the basic requirements (minimum screen size, allowing remote access and so on) in order for the solution to be used as was intended.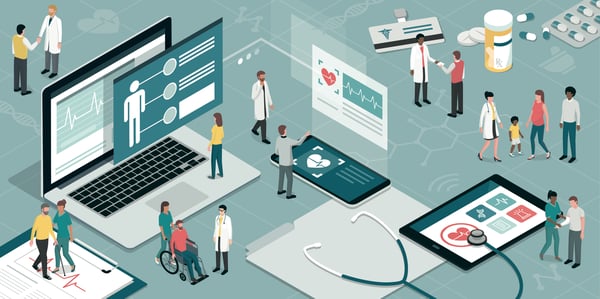 Medical teams and their needs
If users enjoy no benefits of the selected device, they will eventually stop using it. The device design should not interfere with the users' routine; it should be intuitive and fitting to various use cases.
What health professionals need from a device depends on their role and nature of work. Them being frequently on the move, the device should allow at least a certain degree of mobility.
When it comes to medication management tasks, nurses will gain most with COWs, as they need both a screen to check which medicine to administer and a locker with the actual medication to give to the patient.
On the other hand, doctors 'only' need an overview of the patient's medical record and an easy way to prescribe or change prescriptions. A tablet or mobile phone could be much more convenient for their tasks – unless they are required to be hands-free or need to type-in significant amounts of information.
Specifics of the environment
It is crucial to be familiar with the specifics of the ward where the device will be used – one type will almost certainly not fit all the wards or departments in a hospital.
If a device is required at the point of care, and the patients' rooms are small, a large COW would not fit in. Perhaps there is enough space in the ward, but no options to charge the device – which would make long battery life a necessary feature. Then there is the question of where to leave the device when not in use and whether it can cause any harm while left unattended. Note also that not all devices can be sterilised.
Safety and ability to maintain the devices
When buying new devices, bear in mind that they will need to be properly set-up and maintained. Make sure that your hospital's IT department maintains and updates the devices purchased, thus preventing them from becoming useless. Also keep in mind that different devices also come with varying risk potentials for errors, breakdowns or patient data breaches.
Questions to guide your decision process
Finding the answers to the following questions will bring you closer to choosing the right device and implementing a digital healthcare solution successfully.
Who are the end users?
Where are the users when they need the device – in the office, in the patient's room, moving from one ward to another, or even at home?
Would they prefer a keyboard and mouse or a touchscreen?
Which equipment can be used in the ward?
Do you expect to have any issues with connectivity?
Does the device need to be sterilised?
How important is battery life?
Who will update and maintain the devices?
In the end, it is not about having a trendy new device. It is all about who will use it and how – the department or ward should choose the device, not the other way around.
Register for a free webinar 'Why do we need ePMA' recording with Duncan Cripps, Lead Pharmacist for ePrescribing at University Hospitals Plymouth NHS Trust and Roko Malkoč, OPENeP Product Manager at Marand.