Build better health and care applications faster
Digital health platforms and citizen developers - a match made in heaven?
Monolithic and uneconomical electronic health record (EHR) solutions are impeding digital transformation efforts for many healthcare delivery organisations. Clinicians are frustrated with EHR usability and lack of interoperability. Citizens want to be more engaged in managing their health and wellness, demanding full access to their health record. Consultancies like EY, Gartner Group and Optum report a shift from current, integrated EHR systems to an application ecosystem based on platforms. Finally, recent large procurements for EHRs, like region Stockholm and Central Finland, have been reevaluated and cancelled. The platform approach is now central to many national eHealth strategies, like Ireland, Wales and Catalunya, joining the Nordics. Altogether, it seems like the perfect storm fueling a new approach to health and care IT.

We all agree a fundamentally new approach is badly needed. But provider organisations already have a large backlog of applications and healthcare struggles to attract the best IT talent, so how will health and care transform its IT?

Application backlogs and a shortage of skilled IT staff are not unique to health and care organisations. In other industries, these issues are forcing enterprises to adopt low-code platforms. Many organisations provide employees with low-code/no-code platforms to help them build digital solutions that reduce manual processes, improve productivity or enhance the overall digital experience. This trend is accelerating such that, as Gartner Group predicts, by 2025, 70% of new applications developed by enterprises will use low-code/no-code technologies. [1]

As always, healthcare is lagging behind other industries in the adoption of this new technology. Low-code tools have their place in healthcare modernisation efforts, but introducing low-code tools is not enough because of health and care specifics. To succeed, health and care organisations need to embrace both digital health platforms and engage citizen developers.
Digital Health Platforms
Earlier this year, I wrote a post describing a new architecture based on the digital health platform, which consists of a unified application experience, agile delivery of applications (using low-code tools) on top of a vendor-neutral data core:

"New information architecture is needed to unlock the power of digital technologies and create the connected health ecosystem of tomorrow. Today's solutions tightly couple data to applications. As health and care data is for life, it needs to outlive applications, so there is a clear need to separate them. Architectures for the future will have a vendor-neutral data layer at the centre, low-code tools to accelerate application delivery and application experiences personalised for the user. To bridge the gap between current and future state, legacy EHRs and new open platform-based systems can coexist, enabling innovation during the transition."

The importance of a "data-first" approach for health and care cannot be emphasised enough. Most low-code tools first generate forms and applications then bind them to data. This creates data quality issues and inconsistencies, making data governance across the organisation difficult. Digital health platforms should start with a rich, vendor-neutral data layer and build forms and applications on top, ensuring data consistency across use cases and proper validation throughout the stack (from persistence to front-end) to maximise data quality.

EY describes the transition phase mentioned above, defined as an intermediate-state in a research paper titled "How can an intelligent health ecosystem create a smarter health experience?" It is a practical approach that allows health and care organisations to begin the transition today (see image).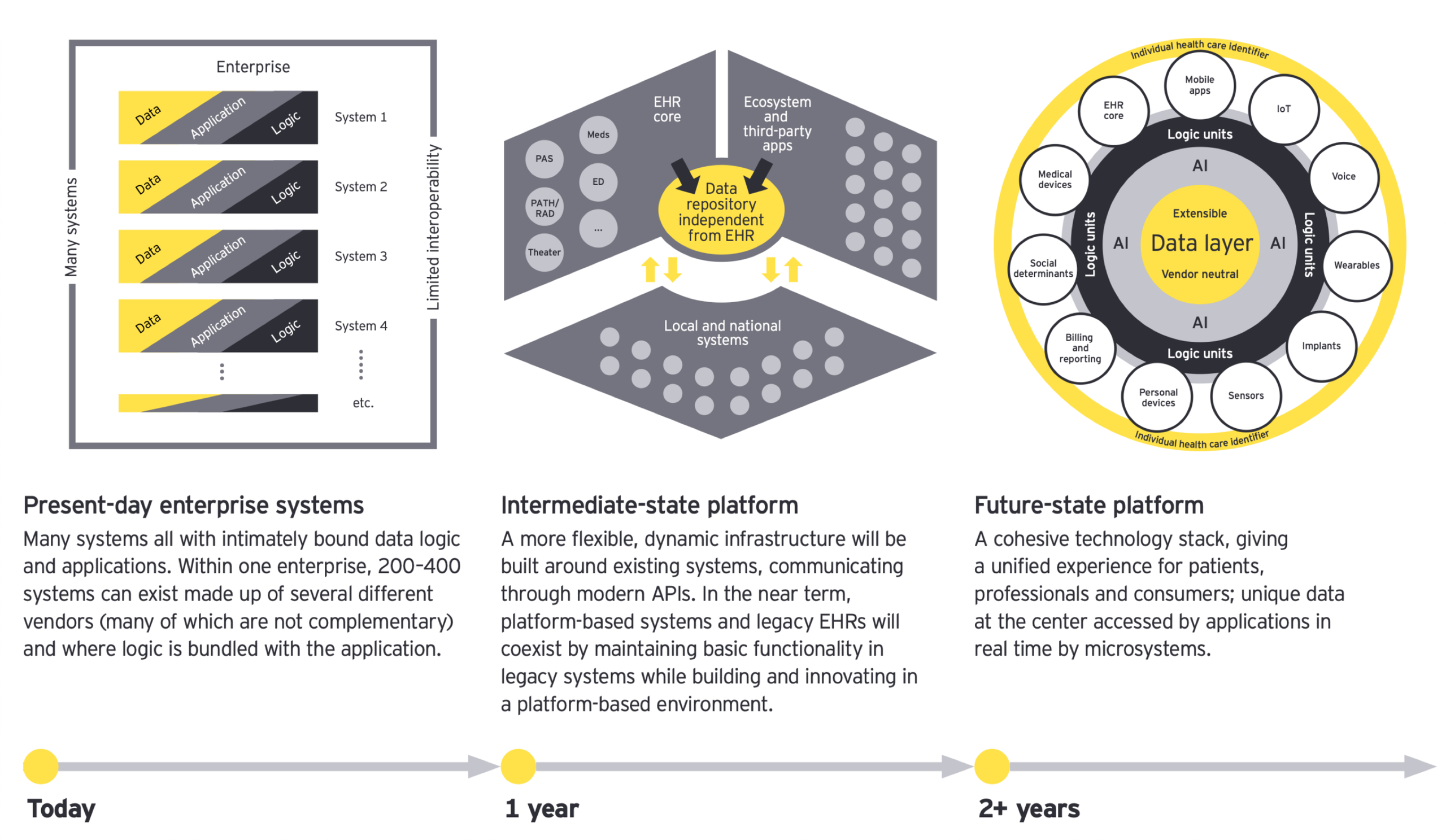 Graphic source: How can an intelligent health ecosystem create a smarter health experience?, accessed 29 September 2021 at https://assets.ey.com/content/dam/ey-sites/ey-com/en_gl/topics/health/ey-smart-health-experience-report.pdf
Citizen developers
Health and care organisations are already facing large backlogs of applications that are only growing. At the same time, they are struggling to attract the best IT talent to increase application delivery. In other industries, organisations are turning to citizen-developers. Gartner Group defines citizen developers as "end-users who create new business apps for consumption by themselves and others, using development and runtime environments sanctioned, or at least not actively forbidden, by IT or the business unit." And they predict that "By 2023, the number of active citizen developers at large enterprises will be at least four times the number of professional developers".[2]

Gartner provides an example of engaging citizen developers in a large organisation: "Enterprise architecture (EA) leaders at BP recognised that their traditional approach — where IT delivered all technology solutions — could not keep up with business demand. They realised that given the high levels of digital skills and ambition in their workforce, it would be better to equip their employees to create their own solutions, with limited involvement from IT. They developed a broad portfolio of digital platforms to match their users' capabilities and needs, from low-code and no-code platforms for general employees to highly specific technical platforms for data scientists and geoscientists. To mitigate risk, they automated security testing, component scanning and licensing and release automation, allowing their business areas to take the lead on developing, releasing and running their own applications." [3]

But, as discovered by another early adopter, Heathrow Airport, this approach is not without its problems: "Low-code/no-code tools are insufficient to harness employee-led technology innovation without also fostering a community of practice that can guide their work toward optimal outcomes. We had low-code/no-code platforms in place, but what really drove uptake was the community, providing guardrails and frameworks to help employees capture value. When employees build new capabilities in isolation, they may inadvertently do duplicative or non-compliant work. So we created a community that empowers employees to spot and deliver digital opportunities, but also equips them to avoid duplication, reduce manual processes, improve productivity and enhance our overall digital experience." [4]

These are all great lessons for engaging citizen developers in health and care as well: it is not enough to provide the right tools; successful adoption requires providing guardrails and frameworks as well as fostering a community practice where users share experiences and learn together.
Conclusion
Citizen developers and digital health platforms are a great match. A digital health platform provides low-code tools, a consistent UX and a common data layer, making citizen developers much more productive and reducing the unwarranted variation of user experience and data. This approach allows organisations to switch their focus from developing code to creating clinical content, freeing up valuable IT staff and bringing technology closer to the end-user.

A recent customer, The Christie NHS Foundation Trust, the largest single-site cancer centre in Europe, is an excellent example of combining citizen developers with a digital health platform. Over the years, fusion teams consisting of e-forms specialists and clinical digital champions have delivered over 600 clinical forms to support the majority of care delivery. Our digital health platform will replace their low-code tools while adding consistent UX and a vendor-neutral, longitudinal care record. This will bring significant benefits not just for the citizen developers but also their EHR and data science teams as they take advantage of data standardised across the organisation. The end result will be better application experiences built faster on consistent, vendor-neutral data enabling The Christie to provide better care!
1: Emerging Technologies: High-Velocity Demands Accelerate Low-Code Application Platforms, accessed 29 September 2021 at https://www.gartner.com/document/4001187?ref=solrAll&refval=302177765 (registration required)
2: How to Define and Guide Citizen Development Practices, accessed 29 September at https://www.gartner.com/document/4000739?ref=solrAll&refval=302178371 (registration required)
3: Platform-Enabled Citizen Development (BP), accessed 29 September 2021 at https://www.gartner.com/document/3889469?ref=solrAll&refval=302178519 (registration required)
4: Case Study: Kick-Starting a Low-Code/No-Code Community of Practice (Heathrow Airport), accessed 29 September 2021 at https://www.gartner.com/document/4004394?ref=solrAll&refval=302178636 (registration required)