openEHR as the Foundation for a Virtual Personal Health Record
Healthcare is a complex information environment consisting of huge numbers of stakeholders, from national health systems to health and care organisations, insurance companies, and more. However, even though healthcare is continually changing, it should always be focused on the patients. Services must be designed around patients' needs rather than separate organisations, and focus on prevention. Digital health technology is a crucial part of these processes, and a system-wide approach is needed to create a patient-centred, coherent information system to help healthcare personnel provide the best possible health and care services.
In order to establish this kind of information system, it is necessary to separate it from the data applications creating it. We must keep patients' data for their entire lives, and since applications have much shorter lifecycles, every 7-10 years all of the data needs to be transferred between applications. Unfortunately, every time that happens, part of the data is lost.
When introducing this kind of architecture in hospitals, we must also consider any existing legacy systems, which may or may not be connected to one another. When a hospital wants to launch a new clinical application, it does not need to replace all its existing systems, but just build new applications on top of an open platform. As hospitals then add new applications, they work with the same data, not additional data. Following this approach, hospitals can keep existing systems running for business purposes, while the new innovation platform allows them to build new health and care applications according to their needs and resources.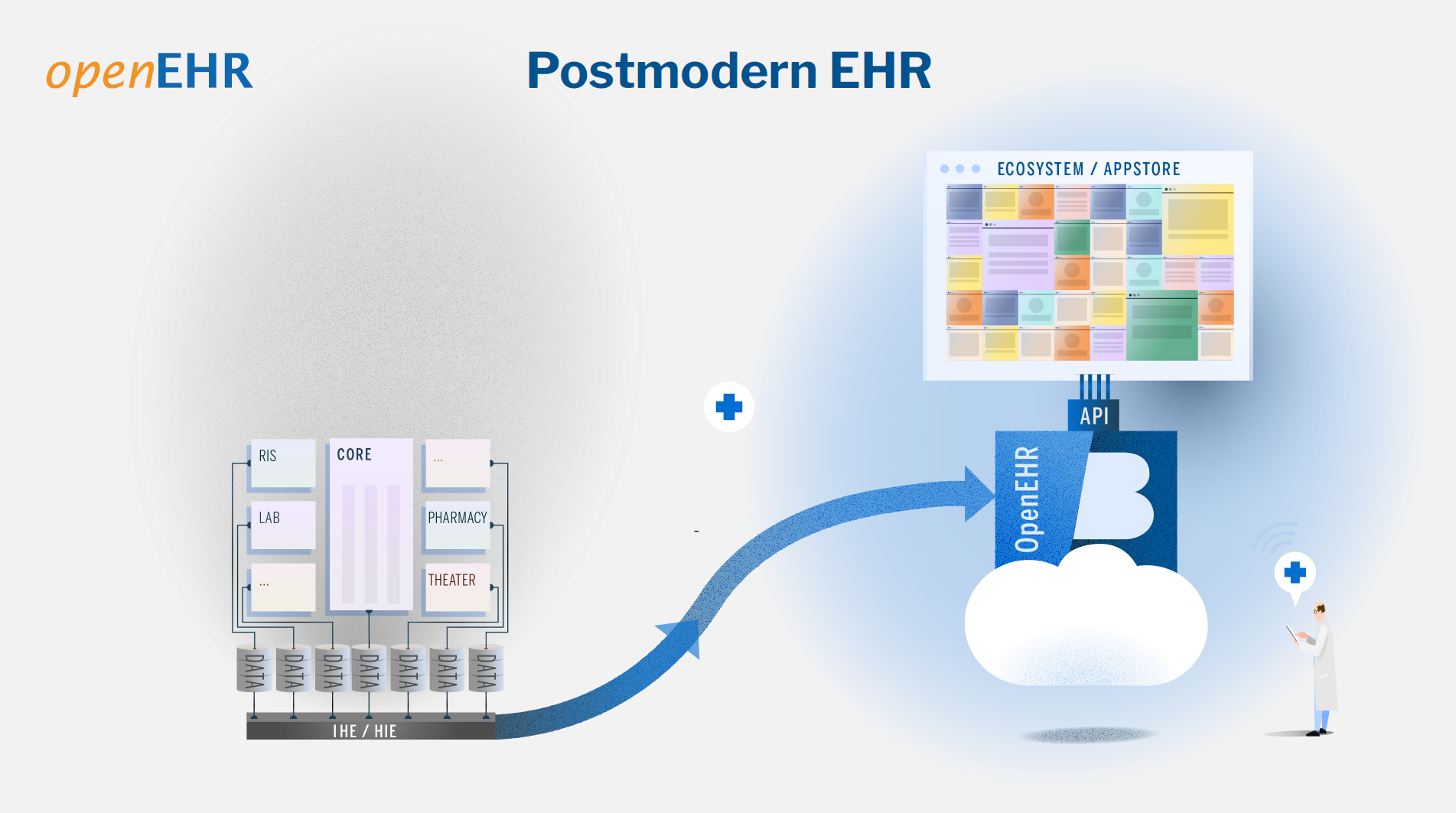 This concept can be used, and is also very relevant, on a regional or national level – especially with the creation of integrated care services. If health and care organisations normalised their data into a common format, we could create a virtual personal health record for each patient. The data could then be aggregated from all of the different systems using a simple query, because the data would all be in the same format. This architecture can be further optimised by storing data in one location so it can be used across all health and care systems.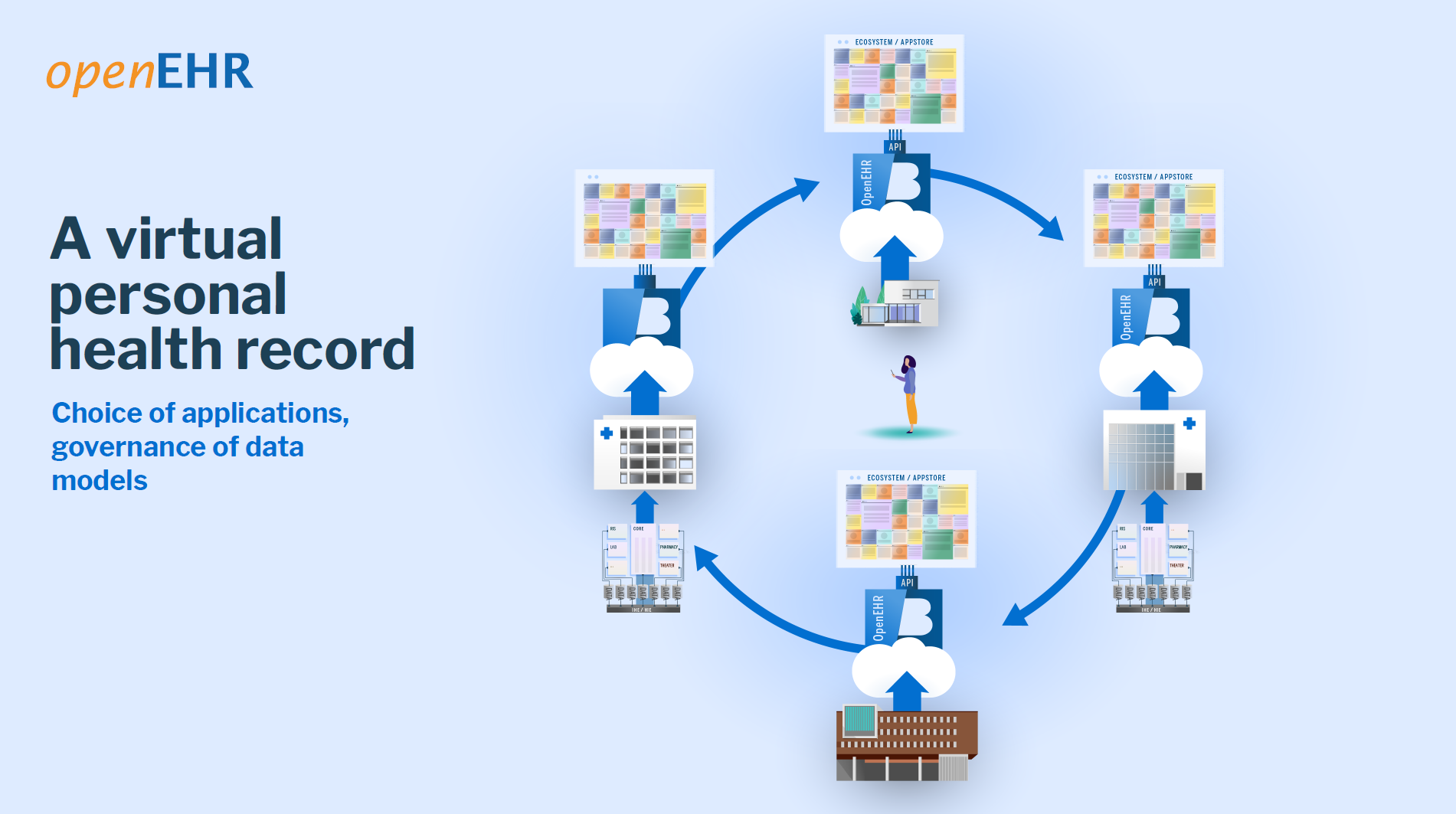 openEHR is a concept that can make this transformation happen. It is a specification, published under an open-source licence, for standardised health information. It allows us to build other applications on top of it, it supports the open platform ecosystem, and it is vendor-, technology-, and license- neutral. Furthermore, the openEHR community consist of hundreds of modellers (clinicians) who have built data models which are open-source and free to use.
openEHR has already been tested and proven in hundreds of deployments worldwide. These are five different use-cases where openEHR has been used:
a health data platform for electronic health records, applications, and a common data repository,
a common data repository for governments and eHealth programmes,
a common data repository for research and clinical decision support,
a framework for clinical registries,
entire ecosystems of healthcare applications and services.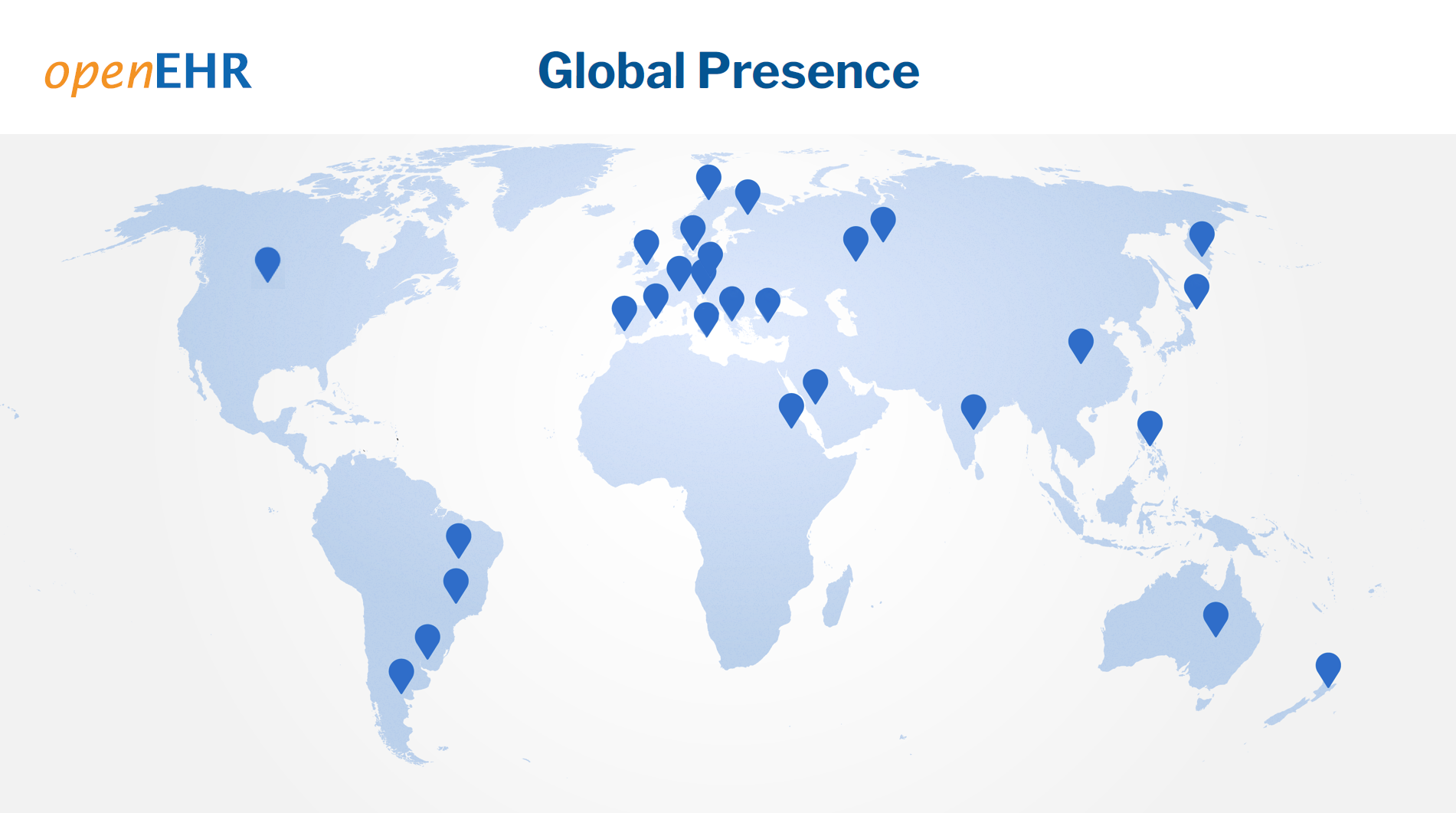 If you would like to learn more about openEHR, you can still register for recordings of the openEHR 2020 Digital Event: DATA FOR LIFE, where Tomaž Gornik, Co-Chair of openEHR International, and Ian McNicol, Board Member of openEHR International, explained the topic in more detail.
The event featured several reputable speakers, including Prof. Robert M. Wachter, MD, Chair of the Department of Medicine at the University of California, Rachel Dunscombe, CEO of the NHS Digital Academy, Hanna Pohjonen, eHealth management consultant at Rosaldo Oy and openEHR Ambassador in Finland, Prof. George Crooks, CEO at DHI Scotland, Aloha McBride, Global health Leader, Ernst& Young, Monica Jones, Chief Data Officer, DATA-CAN, and many more.