Webinar summary: 'Why do we need ePMA?' with Duncan Cripps and Roko Malkoč
Around 30% of negative drug effects are a consequence of a medication management error.[1] Electronic prescribing can prevent many of them.
We hosted a webinar about digital medication management in the hospital. Duncan Cripps, Lead Pharmacist for e-prescribing system implementation at University Hospitals Plymouth NHS Trust, and Roko Malkoč, Business Unit Manager of OPENeP – Better's electronic prescribing and medicines administration (ePMA) solution, presented the rationale behind ePMA implementation and the journey a hospital needs to go through from the decision to buy a system to its adoption in the clinical setting.
A lot of questions arose from the audience, but as we ran out of time answer them all, we are publishing our speakers' answers
at the bottom of this post
.
ePMA in University Hospitals Plymouth NHS Trust
University Hospitals Plymouth NHS Trust is one of the largest NHS Trusts, not immune to paper-based prescribing errors. As illustrated by Duncan Cripps due do handwritten prescriptions and their illegibility, serious medical errors occurred from prescribing the wrong dosage, mismatching of medicines, or prescribing of non-existent drugs.
"In the past, we've done some intervention audits, which the pharmacists have carried out. Fairly consistently we were finding that pharmacists were making around 1000 interventions a week," mentioned Cripps.
In most cases issues were resolved when the pharmacists required additional information or clarification. While not all errors were harm-causing incidents, there was a small percentage of incidents with serious consequences within that number.
These, emphasised Cripps, were in the end the decisive arguments for the investment in ePMA.
Electronic prescribing directly addresses all the mentioned challenges and offers additional benefits:
It eliminates illegibility issues and the need for transcription,
it improves the quality of discharge information,
it enables allergy checking,
provides transparency in the prescribing process,
makes it easier to adhere to safety standards,
helps with managing large amounts of data.
Cripps believes that their new e-prescribing system will cut down errors significantly, as well as enable an easier investigation of (potential) errors.
Not another IT system, please!
The key topic of the discussion was how does one go about implementing an ePMA system in a large, complex healthcare environment. Plymouth has 7000 employees and 190 existing standalone departmental IT solutions already. Seeing that people are somewhat reluctant to any new IT solution didn't come as a surprise, said Cripps.
"One of the beauties of implementing OPENeP is that it uses open standards, which means that we've actually been able to integrate it quite seamlessly with our patient portal."
As shown by Cripps, OPENeP is therefore perceived more as an addition to existing software rather than an additional standalone solution. The integration feature proved to be very welcomed by the users.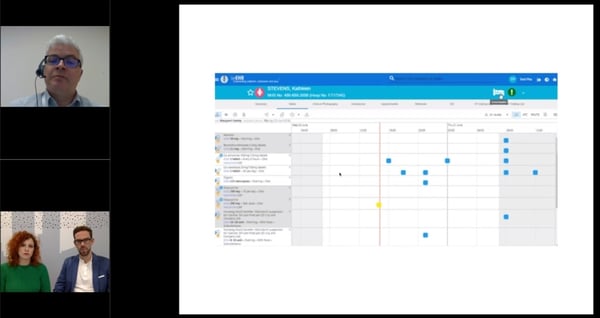 Cripps showed how OPENeP works hand in hand with Plymouth's existing patient portal.
With the OPENeP's open standards approach Plymouth Hospitals was able to meet a lot of specifications from their existing patient portal.
Fit for the purpose of any hospital
OPENeP has so far been implemented in four locations: University Children's Hospital in Ljubljana, the Institute of Oncology in Ljubljana, Plymouth Hospitals NHS Trust, the next in line for implementation is Musgrove Park Hospital in Taunton, UK.
Roko Malkoč explained that OPENeP was developed in close collaboration with users in the Children's Hospital Ljubljana, by observing clinical workflows and user pain points. Before scaling, Better's assumption was that it would take a lot of time to adapt the system to the e UK market requirements, however the differences between the clinical needs turned out to be small. "Because we were focused at the users and their pains in the very beginning, we were able to develop a solution that is fit for the purpose of any hospital."
In the end, no matter the differences among the hospitals in terms of size and requirements, t, the key component for technology implementation is a strong implementation team that drives the process forward.
A bridge between the IT department and clinical users
Cripps's implementation team consists of four people - two e-health nurses, a senior pharmacy technician, and himself. He noted that in the past, clinical IT systems were typically implemented solely by the IT staff. Now the feedback from potential users is taken into account. "Users opinion inclusion in the implementation provided a bridge between the IT department and the final clinical users. The fact that our implementation team has experience and empathy with the end-users has enabled us to build effective and trusting relationships, and drive the speed of adoption."
Better offers a lot of support in the implementation process, with the help of local partners, explained Malkoč. Better's implementation partner in the UK is CGI. "Through the University Hospital Plymouth case, we focused on passing as much knowledge as possible to them, so that they will be able to guide the implementation process in any hospital, without our constant physical presence," mentioned Malkoč.
Key recommendations by Malkoč and Cripps advice for those embarking ePMA implementation
delineate clear and realistic expectations of your needs from the ePMA system itself, and other systems planned for integration
properly manage the expectations of potential users
have senior clinical involvement from all the relevant professional groups from the very start.
[1] Source: Grotting, J. B. et al. (2002). The Effect of barcode-enabled point-of-care technology on patient safety.
...
Register for a free webinar 'Why do we need ePMA' recording with Duncan Cripps, Lead Pharmacist for ePrescribing at University Hospitals Plymouth NHS Trust and Roko Malkoč, OPENeP Business Unit Manager at Better.
Answers to questions the speakers didn't have time to answer during the webinar.

How many paper charts did you use previously?
Cripps: "Prior to ePMA implementation we used one chart for most adult patients, another for paediatric patients. I would estimate around 25-30 different paper forms for prescribing specific regimes, e.g. insulin infusions, or in specific clinical areas, e.g. intensive care was used in total."
What devices are you using at the medicine administration side of things?
Cripps: "In our first pilot ward we'll start using laptops which will be held on a flexible sidearm on new drug trolleys. We'll be evaluating hardware and equipment as we go so there may be alternatives used in the future, depending on the specific clinical area."
How safe is the OPENeP in means of patient safety? Who has access to a certain patients' record? Only the doctor that is in charge of the patient or everyone involved in his care?
Cripps: "We can locally configure a granular permissions structure set up by Better, so the hospital is in control of user access. Our own patient portal SeeEHR uses the same authorization tool and can be used to limit default views to specific areas or teams."
Does the electronic prescribing system link directly with the pharmacy dispensing system?
Cripps: "Not yet. This is something we would like to do once we have ePMA properly embedded.
Malkoč: "It is on the OPENeP roadmap to tackle integration with pharmacy dispensing system in the Q4 2019, based on specifications provided by NHS."
Have you engaged with any patients/patient representatives on your project?
Cripps: "We have formal approval at Trust level for our patient information leaflet, designed to reassure and explain to patients the reasons and implications of their ward changing to ePMA instead of paper records. We hope to engage in a more "face to face" level with patient representatives as the project continues."
Do the medical staff need extra training for OPENeP? Do you have courses for them?
Cripps: "We have a range of reference materials available and are working on some e-learning modules to prepare staff to use OPENeP via SeeEHR. We are expecting to deliver face to face training in addition as we roll out and have already done some training with our new intake of foundation level doctors on their induction. The feedback we have had so far is that the system is intuitive and comparatively easy to use".
Do you have plans to use any mobile devices?
Cripps: "We would like to, but only for specific tasks where mobile carries a clear advantage, e.g. witnessing process for administering controlled drugs or injectables. Having learnt from others' experiences, we're not intending to use mobile devices for the sake of it".
How have the processes in the clinic changed? Which primary goals have been achieved?
Cripps: "We're still in the testing period, but the medicines reconciliation process is far more transparent, and the interface with our electronic discharge summary solution is very easy to use, so we are confident that we'll provide better information for GPs and will be able to supply discharge medication more efficiently than at present. By removing the need for transcription and by configuring our dm+d list, we know that a range of existing errors and ambiguities will be eradicated. We will, however, be watching intensely for any new error types during our pilot phase. The use of task lists, identification of critical medicines, and a continually accessible record is expected to reduce our incidence of missed or delayed doses, and to improve efficiency for nursing and pharmacy staff (less time looking for charts, targeting activity where actually required)."
How/why have you chosen your clinical area for the pilot? Are you likely to introduce secondary pilot areas before the "Big Bang"?
Cripps: "We decided to start in the Health Care for the Elderly Department for a number of reasons, including lessons learnt from site visits to Trusts that have implemented other ePMA solutions. Our main criteria were minimal patient movement between clinical areas, low patient turnover, relatively simple medication regimes and a discrete clinical team. The ward we've chosen meets all these criteria as well as having a very enthusiastic and committed consultant running the team. We do plan to have another 1 or 2 pilot areas before a more extensive rollout."
Are you configuring the system locally to prevent certain incidents happening, and preventing certain drugs being prescribed/administered?
Cripps: "We are indeed. We have set up same precautions with methotrexate, created effective automated processes to provide additional anticoagulant information to GPs, forcing prescribers to specify a branded product where generic prescribing is not advisable and we're working on order sets to handle complex scenarios, e.g. patient-controlled analgesia and variable rate insulin infusions."
Have you had any involvement from any 'Human Factors' experts in the design and usability of the system?
Cripps: "Not specifically in Plymouth, although I am a former Human Factors trainer at this Trust, so mindful of ensuring that user acceptance testing reflects, as far as possible, authentic clinical practice to try to pick up on invalid assumptions, altered situation awareness etc."
How does your medical staff rates paperless work in hospitals? Did you do any surveys about that?
Cripps: "Not specifically – we've had some well received implementations and less so. We're hoping that having a more integral clinical input to this project will ensure that this implementation will create a positive response".
So, if I understand correctly, Plymouth is in the "pilot" stage of ePMA ... is the Better's ePMA "live" with patients/ clinicians somewhere?
Malkoč: "University Plymouth NHS Trust is our pilot site in NHS. Our second hospital in NHS is Taunton and Somerset NHS Trust. OPENeP is live for seven years in University Children's Hospital Ljubljana and two years in Institute of Oncology Ljubljana".