"We deliver a solution that makes patient care safer, faster, and more reliable every single day"
"It's a fast-paced environment, and we have a lot of different customers with different views and needs across different teams. This makes for a demanding but rewarding job," says Francesca Leithold about her work at Better.
Dr. Francesca Leithold is a delivery director for the UK part of the Better operations, working closely with the NHS. Her job is to ensure that the Better team delivers what they have promised to the customer and that all internal processes function smoothly as well. "The greater impact of what we do in life with our career is fairly important to me," says Francesca, and the drive of wanting to make a difference somewhere, brought her to Better. A true athlete by heart, she has just bought a road bike to cycle around Slovenia, her newfound sympathy and, possibly, a new home. Read the interview to find out how Francesca got to where she is now and what her plans are for the future.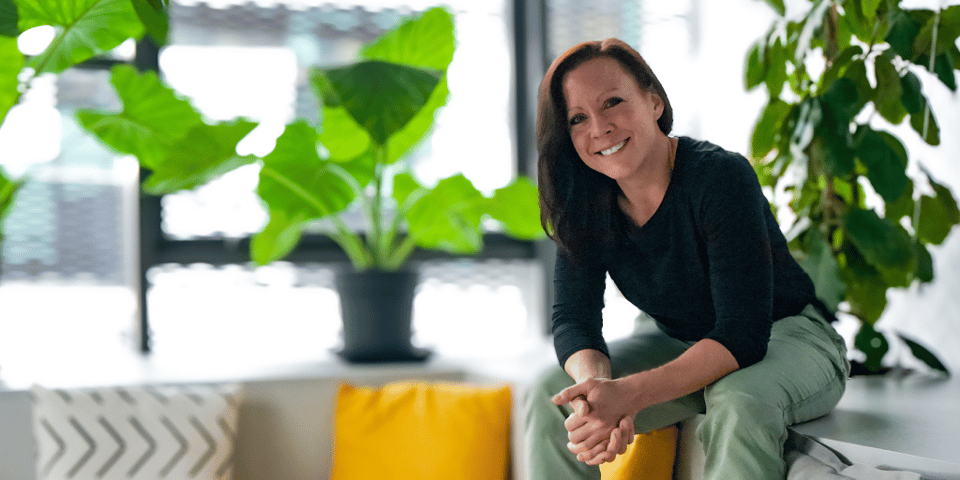 Were you always determined to work in technology and healthcare, or was it the coincidence of several life events that brought you to where you are now? 
I came to health informatics on a rather unexpected journey, starting with a master's degree in information management. Purpose and the greater impact of what we do in life with our career are fairly important to me, so I took some time off after my PhD to consider where to go from there and what my options were. I wanted to make a difference somewhere. Travelling abroad, I met British people, and one of them worked at Epro, a company delivering healthcare software to the NHS, and they invited me to join their business. The rest is history. I moved to the UK, and having worked there for several years, I joined Better. Better's mission statement, improving health and care by simplifying the work of care teams and accelerating digital transformation underpinned by data for life, really resonated with me. 
You have graduated in information science and then did your PhD in business administration and management. How do both degrees intertwine and help you in your everyday work? 
Education-wise, I'm closer to an all-rounder rather than a specialist. My PhD at the Munich School of Management focused on usability, software, and performance of digital teams online. There is a connection between facing a broad range of topics, keeping an open mind to take it all in, and using skills and knowledge from different sources for better decision-making. I enjoy tech talk but can also relay the tech talk to the customer in a language the customer will understand. Fundamentally, it helps me bridge between different topics and groups and teams into a joined-up approach, which is key to my day-to-day job. 
You work as the delivery director; can you tell us what you do and what your typical day looks like? 
We sometimes joke that my real job title should be Chief Cat Herder instead of Delivery Director because there are so many moving parts to align. I interface with most of the teams on a daily basis: helping to coordinate resources and workstreams to ensure we deliver what the customer has agreed with us and what we have set out to achieve internally while not losing the plot in the process of doing so. Not always an easy one, but never boring! We're a small but closely-knitted team, so quite a variety of different tasks come my way. I have never written any code (the developers thank me for that!), but I try to understand the basics from installation to handover before planning anything with the customer. I also try to work along the lines of 'If I understand it, the customer will', and it helps me streamline and coordinate the delivery programme.
You strongly believe in digital transformation and digitising health and care processes. Why is it so important, and how does it lead to better care? 
The topic of public health holds immense significance, and the NHS encounters continuously growing challenges. It is imperative to enhance healthcare efficiency and uphold elevated standards of care to make a positive impact on the lives of those dependent on the NHS. The digitalisation and standardisation of medical records, such as care plans, can aid medical practitioners in managing patient information with greater speed, ease, efficiency, and intuitiveness. Embracing digital healthcare enables the realisation of fully interoperable electronic health records while eliminating paper records for patients. This leads to decreased turnaround time for clinical processes, a reduction in errors, and enhanced patient safety. 
How do you work with different teams at Better, and what do you find most important in the work culture? 
I have been at Better for just over a year, and it has been a truly inspiring journey. It's a fast-paced environment, and we have a lot of different customers – internally and externally – with different views and needs across different teams. This makes for a demanding but rewarding job. At the moment, I split my time half and half between Slovenia and the UK, working both remotely from home and in the office from the Ljubljana headquarters. We employ a unique set of truly excellent people, and I never stop learning. The culture in the team is one of teamwork and supporting one another, whatever the challenge. People really care about the work they do and the pride they take in it. This is important to me and has made a difference from day one.
You have worked and lived all over Europe, but now it seems that Slovenia truly has your heart. Why is this so? 
I came to Slovenia for the first time in 2020 as part of the structured onboarding programme Better runs for partners. I extended the visit to explore the countryside, and it was – truly – love at first sight. Ljubljana is small but outstandingly pretty, and the rest of the country has an incredible amount of variety to offer. My Slovenian colleagues are hardworking, dedicated, reliable and full of fun, and have made me feel welcome above and beyond expectations. My friends at home joke these days that it's just a matter of time before I move to Slovenia altogether! 
What does Better mean to you? 
We here at Better deliver a solution to the NHS and worldwide which makes patient care safer, faster, and more reliable every single day. This resonates strongly with me, and I see the purpose of what we do and the impact we make. In my second month here at Better, we had an all-company meeting where one of the keynotes had a line in it which has stayed with me. It said: "When we signed for Better, we signed for growth […]. On a personal level and on a company level, and, no matter the obstacles, we will make it happen." I would extend that to say: "When we signed for Better, we signed for making a difference. Personally, for healthcare, and the NHS".