Is a mega-suite enough to really transform Healthcare?
Healthcare is very complex environment and it is constantly changing not only because of medical advancements but also in terms of new technologies. There are significant changes to how healthcare professionals as well as patients are experiencing healthcare, not to mention the fact that care is no longer happening just at the doctors' offices or behind hospital walls but more and more also at home and outside of a typical healthcare setting.
IT and technology can help with all the advancements that are happening in healthcare, however, it has to be done in a right way in order to really provide benefits to all the stakeholders. In healthcare, it all really comes down to clinical data. You can have the best applications and the most modern sensors and smart devices. However, if you cannot reliably show all the relevant data to the user, you are not providing all the benefits of IT as stakeholders still need to spend extra time looking through other sources to understand the current patient's situation. After all, if healthcare professionals or even patients are making decisions on the incomplete data, how reliable can those decisions be?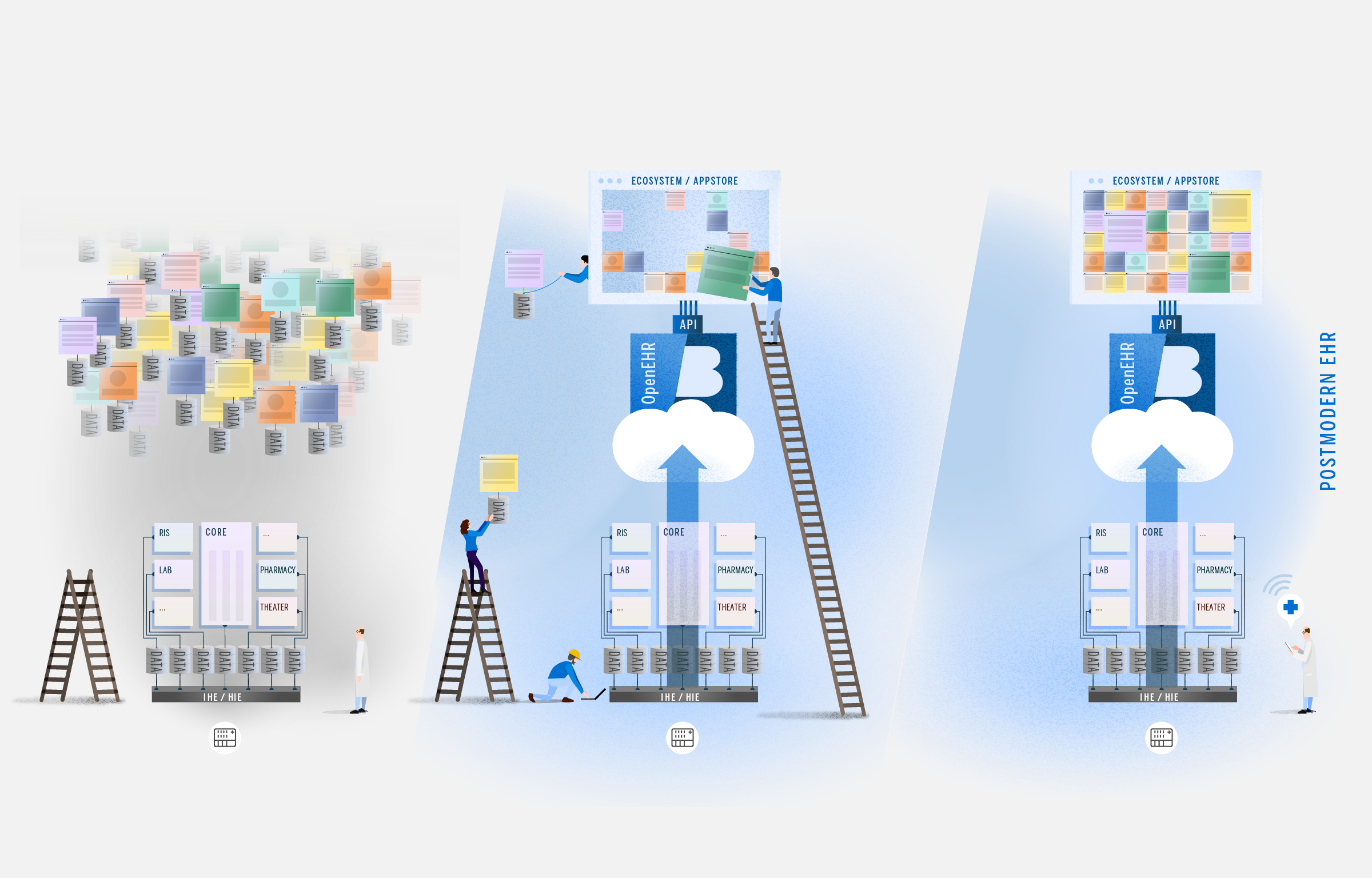 There is a maturing approach to healthcare IT that successfully addresses the challenges with patient's data.
Current IT solutions have integration capabilities. However, in reality due to limited capabilities and sheer number of these solutions, the integration is only done between some of the systems and just for some basic scenarios. Now imagine the situation, where all applications integrate on the level of common clinical data repository (CDR). This approach immediately simplifies the integration challenges and significantly reduces the number of integration points as all the solutions and devices now connect centrally (under strict security and access rules) to this CDR. More importantly the approach establishes a life-long, vendor neutral CDR, which holds an up-to-date patient information in a single place.
Another benefit to such an approach is that persistence layer all of a sudden becomes separated from the applications. This way, clinicians and government representatives gain the ability to govern the content and mandate the standards used (API, terminologies, consistent data formats and clinical models). As data becomes free from individual solutions, it also enables higher flexibility and agility when it comes to introducing or replacing solutions into the ecosystem. Whenever you change an application, you no longer have to migrate the data and each new solution that you add to the ecosystem can immediately leverage and rely on all the data in the common CDR.
This creates an ecosystem where everyone can work together safely and with confidence that they are working with the comprehensive and up-to-date patient information.
If you do that in a small setting like a hospital, a trust or a region, imagine what you can achieve if you start scaling that concept and connecting ecosystems across regions or even different countries.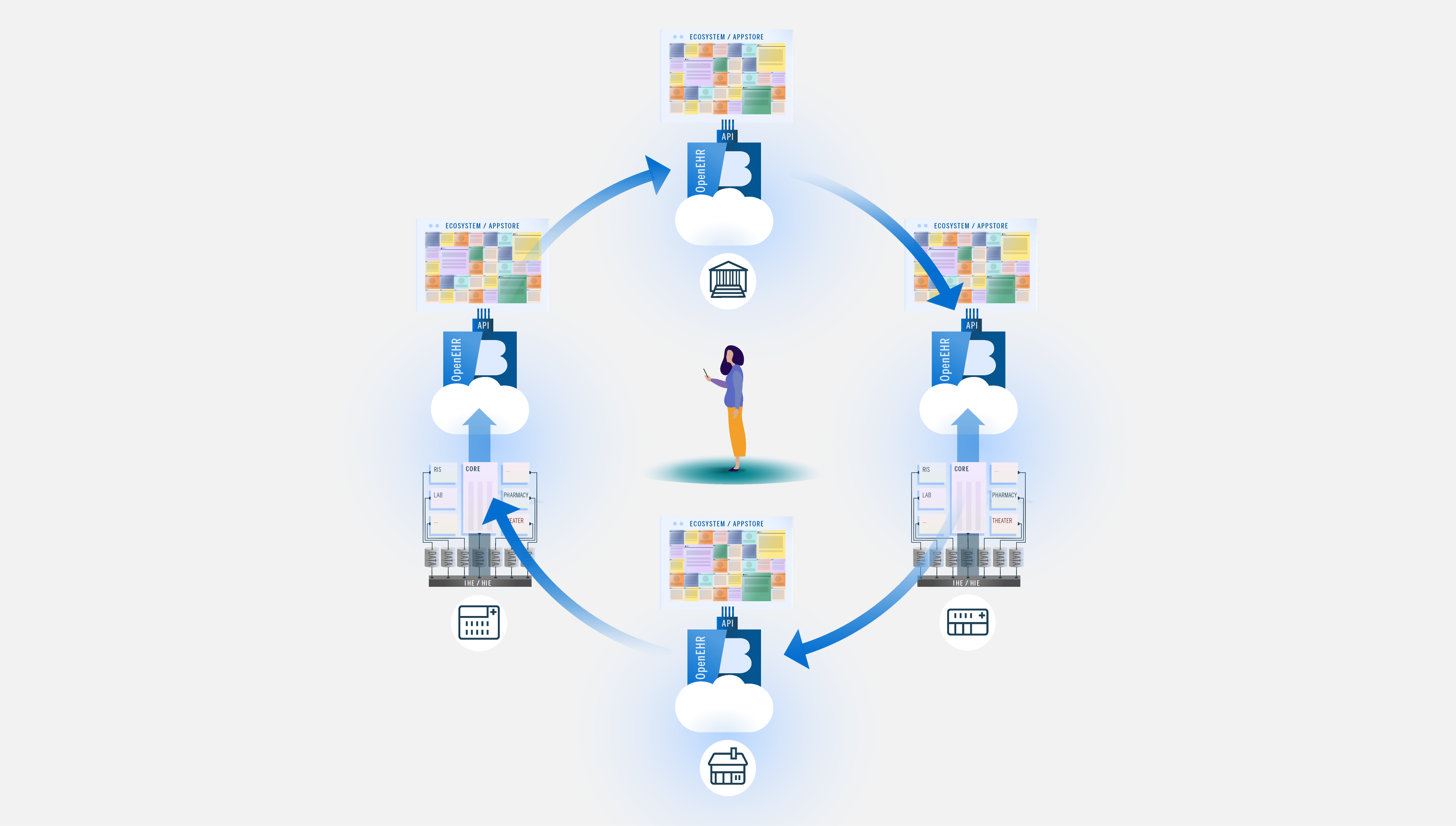 Now you are truly building a life long and geographically unconstrained EHR that can easily cope with future advancements in technology and business models.
Described maturing approach is already used in 16 countries around the world and supports over 50 applications and over 22mio patients:
Moscow City SIMI Project where Better Platform implemented as structured and standards-based clinical repository for the centralized Electronic Health Record for the City of Moscow.

Slovenian Interoperability Backbone project: The Slovenian eHealth project and the inclusion of stakeholders into a functional network, reconstruction of the healthcare system business model, as well as integration and harmonisation of many specialised HISs at different levels.
Learn more here.
HiGHmed Consortium in Germany established a semantic interoperable electronic health record architecture in a vendor- and technology-neutral format.
Learn more here.
Malta's National Electronic Health Records (NEHR) is using Better Platform to implement a mature, future-proof national EHR and care coordination platform for collecting and storing patient health data.
Learn more here.